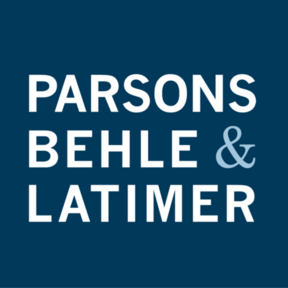 Parsons Behle & Latimer (Parsons) was founded in 1882 and is one of the oldest and best-known law firms offering litigation and business law services in the Intermountain West. Our first clients were in the business of mining—one of the major industries that helped fuel the growth of the area. Over time, our reputation and client base have grown with the dynamic Intermountain West.
Parsons offers the resources and capabilities of a large and diverse firm, coupled with the highest levels of accessibility and responsiveness. With more than 180 attorneys, the firm offers businesses a depth and range of experience in the following areas: Antitrust and Competition; Banking and Finance; Bankruptcy and Insolvency; Corporate Transactions and Tax; Cybersecurity and Data Privacy; Employment and Labor; Energy; Environmental and Natural Resources; Government Relations and Lobbying; Healthcare; Intellectual Property; Litigation; Mining; Real Estate; and Water law. Headquartered in Salt Lake City, Utah, the firm has offices in Boise and Idaho Falls, Idaho; Helena and Missoula, Montana; Reno, Nevada; and Lehi and Park City, Utah. To learn more, visit
www.parsonsbehle.com.
No followed people